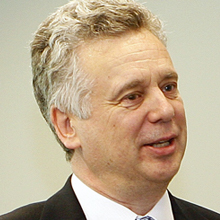 Dr Pierce is the Chief Executive Officer and founder of Global Governance Services Ltd.  He is a published author of many articles and books on corporate governance including:- "Corporate Governance Practices in Europe" and "Corporate Governance Board Leadership Training Resource Kit" (both World Bank/IFC); Mauritian Code of Corporate Governance (2017); UK Corporate Governance National Occupational Standards (2011) and "Corporate Governance in the Gulf" (GGS 2012).
As a GGS Consultant, Dr Pierce has worked with some of the largest Listed Companies, Banks and Financial Institutions, Stock Exchanges, Sovereign Wealth Funds, Family Businesses and State Owned Enterprises in the world.   He was formerly Director of Professional Standards and Professional Development at the Institute of Directors (IoD) in the UK and prior to the IoD he was the Director of the Centre for Director Education at Leeds Business School.  His career includes senior management roles in British Airways and the Overseas Development Administration.
Dr Pierce is currently a Visiting Professor in International Corporate Governance at Lincoln International Business School. Dr Pierce's academic qualifications include an MBA, an MSc, an MPhil and a PhD, and he was awarded the 2014 Marcos E J Bertin Quality in Governance Medal in recognition of his personal contribution to the promotion of good governance practice around the world. He is currently a Fellow of the Caux Round Table; a Fellow of the Royal Society of Arts and  a Fellow of the Institute of Chartered Secretaries and Administrators. Former academic roles include; Honorary Visiting Professor at Cass Business School, City University London; Research Fellow of Cranfield Business School; Executive Fellow of Henley Management College.
Dr Pierce is based in the UK and works world-wide.