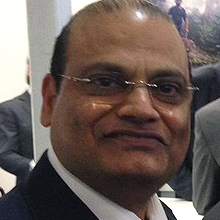 An Associate of GGS since 2005, Professor M.K.Chouhan is Chairman of Mahendra & Young Knowledge Foundation & Vice Chairman of Global Advisory Board, Asian Centre for Corporate Governance & Sustainability (ACCGS).
Mahendra has been elected as a member of the Global Reporting Initiative (GRI) Stakeholder Council.  He has over 30 years of experience in multinational and Indian companies. He is currently Managing Director of Mahendra & Ardneham Consulting Ltd and advises companies on building cohesive and high performing Boards and the selection of Independent Directors and CEOs.
Mahendra is a visiting faculty member at the Indian Institute of Technology (IIT) Bombay and Jamanalal Bajaj Institute of Management, Mumbai where he teaches International Business, Corporate Governance and Corporate Social Responsibility (CSR).